---
Separating Couples Realise the Benefits of Mediation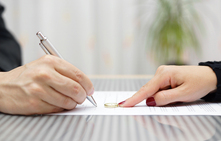 31

Jul 2017

Emotionally the end of a relationship can be an incredibly difficult time for both individuals, even more so, when disagreements result in the added stress and financial burden of Court proceedings.

Generally completed within a considerably shorter time frame, mediation is a lesser known alternative for resolving disputes. As an accredited specialist family mediator and professional practice consultant, I want separating couples to know the full benefits of mediation.

Saving Time and Money

Recently it was revealed that mediation costs separating couples on average 10 times less than Court proceedings. This is because protracted Court processes can potentially go on for years, making a serious dent in both party's finances. Despite this, 60% of separating couples go straight to Court and fail to fully engage in the mediation process.

Attending Your MIAM

You may not be aware that before applying to Court you have a legal requirement to attend an initial Mediation Information and Assessment Meeting (MIAM). This is a good opportunity to discuss all the practical, legal and family issues relating to your situation in a civilised environment before beginning regular mediated sessions.

Why Choose Mediation?

From my experience, I have found that mediation is the most sensible way for both parties to achieve their desired outcomes. This is particularly true when children are involved, as through calm and intimate Solicitor led discussion, it promotes an amicable co-parenting relationship post-separation. It also spares children the trauma of stressful court battles giving them a greater ability to adjust emotionally, socially and at school, to changing circumstances at home. Additionally, it will give couples more control, than in Court, over important decisions such as child arrangements and the division of finances.

Whilst it may not be suitable for every family, people should be aware that mediation can narrow issues and improve communications even where a full resolution doesn't happen.

Speak to Our Mediation Professionals

Encouraging good natured and reasonable discussion, I recommend undertaking mediation when separation occurs. Saving you valuable time and money, if you have any queries regarding mediation give us a call and we can recommend an experienced Solicitor to help deal with your situation.